Annual Report 2018

Kia ora e te whanaunga
On behalf of the Rūnanga Board of Trustees I'm pleased to share the 2018 Annual Report with you.
Please share with your whānau and encourage them to contact us so that we can send directly to them in the future.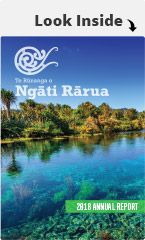 Registered members over the age of 60 will receive a hard copy shortly. All registered members over the age of 18 should also have received their voting packs for the Trustee elections. We are lucky to have a number of exceptional candidates for our Trustee positions this year so I encourage you all to vote.
If you haven't received a voting pack, please phone Election Services on 0800 922 822 or email info@electionservices.co.nz and they will see you right.Nāku noa, nā
Olivia Hall
Chair
Annual Report 2018