Pūtōrino project wins Te Ao Māori Scitec Expo award
Nayland College Year 9 student Orion Masters has won this year's Te Āo Māori award at the Scitec Expo, with an innovative project connecting traditional taonga puoro with modern production methods.
His project, Ngā te wā o Paoro i Mua, examined if 3D printing could make a bugle flute that would produce a comparable sound to a traditionally made pūtōrino.
Orion's research included Hine Raukatauri and her pūtōrino, traditional pūtōrino design, as well as software for design and printing of 3D models.
His chosen material to make the model was an environmentally-friendly bioplastic, made from cornstarch. Known as polylactic acid, the material produces vivid colours and smooth finishes – and can also be combined with wood particles.
After measuring and designing and trying different methods, Orion made three different prototypes. But the proof of the pūtōrino is in the sound – so Orion recorded sound profiles of the instruments to discover how the tone of his models compared with traditional instruments in the Nelson Provincial Museum collection.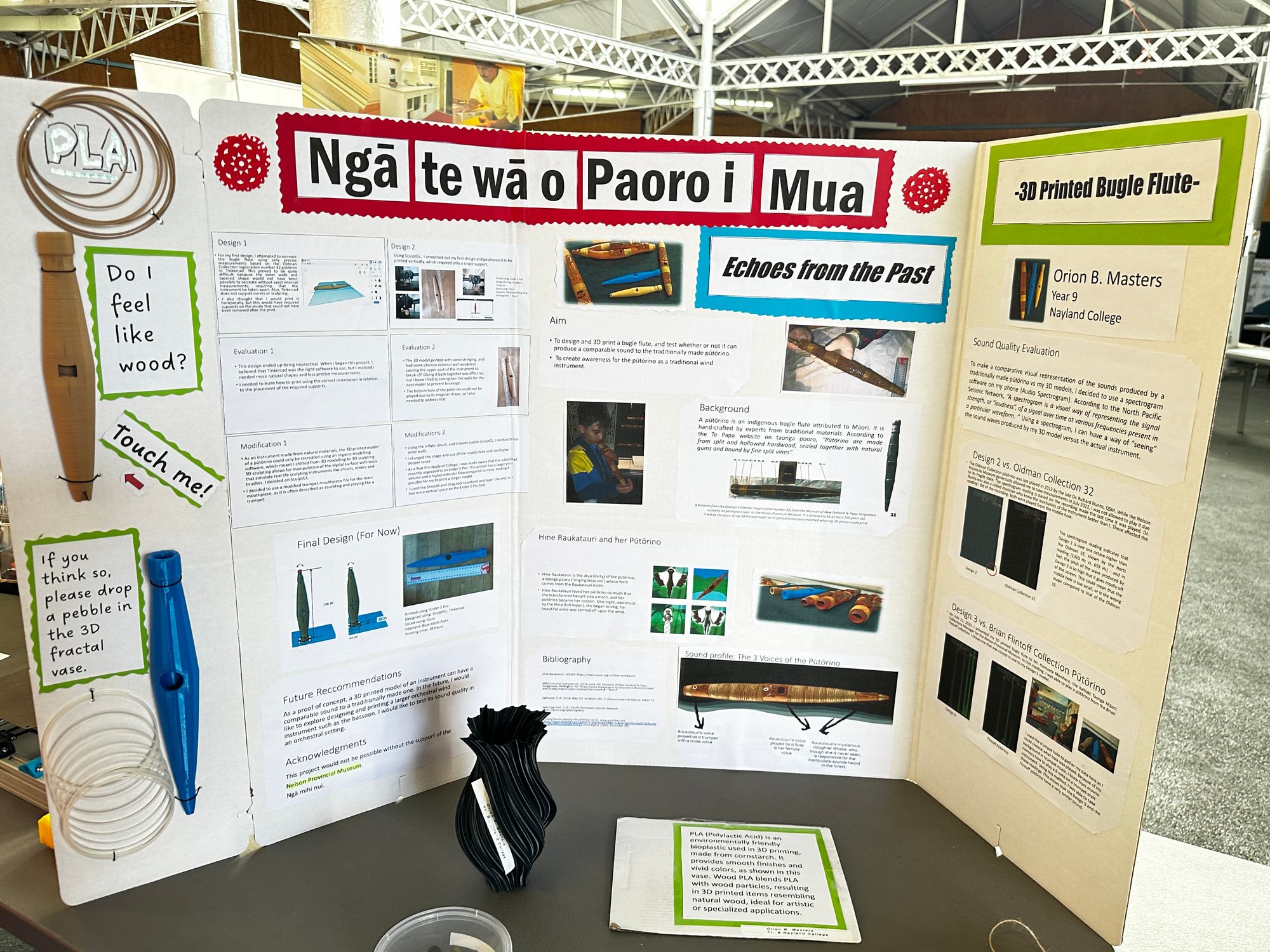 Orion concluded the design did have a comparable sound to a traditional instrument.
Congratulations to Orion for his success - we wish him well for the future!
Other awards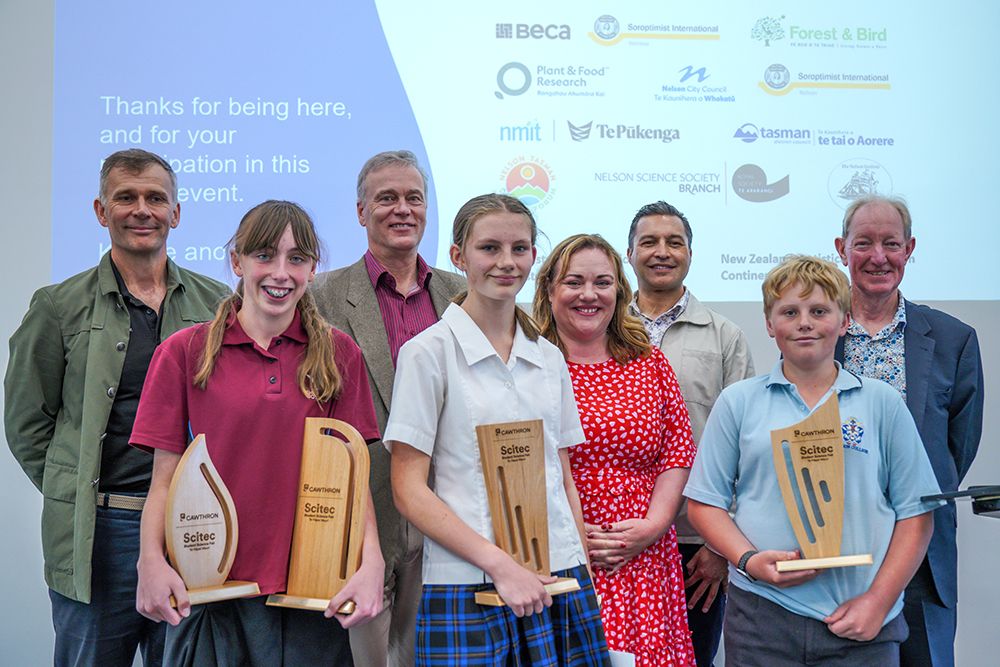 Double success for Keshia
Nayland College student Keshia Linyard scooped both the Supreme Science and Supreme Art Awards over 270 other entrants at this year's Cawthron Scitec Expo.
Making her feat even more remarkable, this is the second year in a row that the Year 10 student has won the Scitec Supreme Art Award. Keshia entered two separate projects that were judged against all other entries, from students in Years 1- 13, to win her awards this year.
Nelson Science Society president and Lead Judge Jenny Pollock said it was a highly unusual achievement for the one student to win two of the four Supreme Prizes at the Scitec Expo.
"I've been judging for over a decade and can't recall this ever happening before in my time.
"We had a large number of entries this year across all four categories, and the fact that Keshia has won two Supreme Awards really demonstrates the consistently high quality of her work."
Keshia's art entry – Coral Catastrophe – comprised of an intricate clay coral sculpture accompanied by four highly detailed paintings plus an extensive logbook and research demonstrating the development of her ideas.
Keshia's science project – There's Something in the Water – involved an experiment on the effects of a commercially available fertilizer on the growth of freshwater cyanobacteria. The judges described her work as "outstanding science," saying she showed great methodology, well-developed conclusions and had thought through the implications her experiment.
The Supreme Technology Award was won by Charlie Townsend from Nelson Boys Prep for his project, Dried Food, while the Supreme Research Award was won by Paige Butler from Garin College for her project, Saxton Creek Storm Water Upgrade.
About the Scitec Expo
This year's Scitec Expo was held at Founders Heritage Park in late August. More than 600 students from 19 schools submitted 273 entries. All the science, research and technology entrants were interviewed by 56 volunteer judges from Cawthron, schools and other supporting organisations. Winners were announced at a prizegiving function held at Pūtangitangi Greenmeadows Centre last week.
Thanks to all the teachers, parents, wider whānau, judges and sponsors who support this event which enables us to encourage, inspire and celebrate our rangatahi in this way.
Pūtōrino project wins Te Ao Māori Scitec Expo award